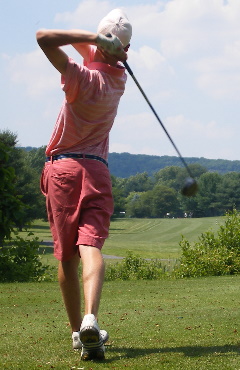 Parents and friends knew Ryan as a wonderful son and a fine young man. Players and spectators knew Ryan as the official starter on the 10th tee. Competitors knew Ryan as a two time champion and someone overflowing with talent and potential.
Following a decorated career at Berlin High School on both the varsity golf team and varsity basketball team, Ryan continued his golf career at Long Island University. As a Division I collegiate golfer, Ryan embodied the most important traits of a successful person, both on and off the golf course. Ryan was persistent and determined, and always eager to learn. He never got angry on or off the course, and always showed the utmost respect for the game of golf. He garnered invaluable life lessons from his time as a collegiate golfer, and there is no doubt Ryan could have done anything in this world.
The Northern Junior is proud to award the Ryan Lee Scholarship each year during the tournament. The scholarship is given each year to a tournament competitor at the Players Dinner. The scholarship is intended for those young men and women wishing to play collegiate golf and who also portray the same honor and appreciation for the game of golf as Ryan.
Click to read story about Ryan Lee, 2-time Past Champion and Committee Member
Past Recipients
2023: Lily Huether, Tucson, Arizona (University of Iowa)
2022: Morgan MacLeod, North Attleboro, Massachusetts (Merrimack College)
2021: Key Coker, Dallas, Texas (Dallas Baptist University)
2019: Michael Rosenbloom, Wellesley, Massachusetts (Emory University)
2018: Kyle Camello, East Hartford, Connecticut (Endicott College)
2017: Brendan Cronin, Sutton, Massachusetts (Lafayette College)
2016: Matthew Stafford, West Suffield, Connecticut (Bryant University)
2015: Nabila Inak, Forest Hills, New York (Newberry College)
2014: Marissa Grillo, Avon, Connecticut (Boston College)
2013: Cole Berman, Rosemont, Pennsylvania (Georgetown University)
2012: Elizabeth DiVincentis, Durham, Connecticut (Georgetown University)
2011: Alyssa Scheyd, Berlin, Connecticut (Lehigh University)